05/26/16 - Overall Monthly Prizes
Effective starting for the month of June the monthly prizes for the overall category will pay to the top 20 as follows: 1st-$2000, 2nd-$500, 3rd-$250, 4th-$100, 5th-$75, 6th-$60, 7th-$50, 8th-$40, 9th-$30, 10th-$25, 11th-$20, 12th-$18, 13th-$16, 14th-$14, 15th-$12, 16th-$10, 17th-$8, 18th-$6, 19th-$4, 20th-$2.

05/18/16 - RSD
Effective on June 1st, RSD will cease to exist for races and there will no longer be an early, mid, or late specification for the time in the season for the race. The actual horse's age will be used instead for calculating its age in the race.

04/26/16 - Nomination to Special Races
Horses can now be nominated to the Special Races by clicking Enter Now on a horse and selecting Special Race as the Type.

04/20/16 - Special Races
The top qualifers for the special races can now be viewed by clicking on the Q in the last column on the prizes->special races page.

04/19/16 - Special Races
Special Races can now be found under Prizes on the menu. The 3 upcoming races for cash prizes are listed in this section. You can click on each race to view the details for each race. The ability to nominate to these races and view the top contenders for each should be available soon.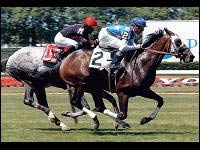 Imagine breeding, owning, caring for, training and racing your own stable of virtual thoroughbreds while interacting in a vibrant social community with thousands of online horse game players from all over the world. This exciting game puts you in complete control of your virtual stable and gives you a first-hand insight of what top thoroughbred owners and trainers do to prepare their horses for upcoming horse racing events.
After breeding and analyzing your horse, your caring and training routine will get him ready for his racing debut. Identify and enter the correct races for your horse, assign his training routine, give your jockey racing instructions, then sit back and watch 3D horse racing at its finest. You will be on the edge of your seat cheering for your virtual thoroughbred as he turns for home and strives with an all-out effort to reach the finish line first. No other horse game can provide this level of realism.
This exciting free game allows racing fans, whether novice or seasoned, to enjoy the most realistic, heart-pounding, exciting gaming experience.
Players compete for top honors and awards in our free online horse game. Will your horses have what it takes to earn top racing honors with you as breeder, owner, and trainer?
Click the Play Now button to start building your stable of champions.




| | | | | |
| --- | --- | --- | --- | --- |
| | | | Smokin' Joe Talamo (Top Jockey and TV Celebrity) - "Being 20, I know all about games. Not only do you guys make the best horse racing games, I think ,simply put, you make the best games! Anyone who plays will become addicted to any one of your games." | |





| | | | | |
| --- | --- | --- | --- | --- |
| | | | Jacob - "Just started getting into horse racing and stumbled across your website. I play skill games and strategy games all the time. Yours are a blast! | |





| | | | | |
| --- | --- | --- | --- | --- |
| | | | Tony - "Love your virtual simulations of upcoming stake races. I've been using your program now for about a year. You've helped me find real hidden betting value in some big races." | |





| | | | | |
| --- | --- | --- | --- | --- |
| | | | Kimberly - "I'm not even a big horse racing fan, but I love horses and I love games and yours are a lot of fun." | |





| | | | | |
| --- | --- | --- | --- | --- |
| | | | Chantal Sutherland (Top jockey and professional model) - "Offering multiple games to reach such a broad audience is a great way to create awareness about horse racing. Obviously, my favorite is the jockey game. It's very realistic." | |