08/30/16 - HRG Sires & Dams
We are close to releasing the new shed program in the next couple of days. When it is released the following HRG sires and dams will no longer be available to be bred to so that the HRG list is trimmed to 50 sires and 50 dams.

Sires: Awesome Again, Barbaro, Blushing Groom, Carbine, Cigar, Colonel John, Danehill, Dynaformer, Ferdinand, Frankel, Gallant Fox, Hard Spun, Henrythenavigator, Honest Pleasure, J.O. Tobin, John Henry, Nijinsky II, Phar Lap, Raven's Pass, Real Quiet, Roamer, Roberto, Round Table, Sadler's Wells, Sham, Silver Charm, Skip Away, Spectacular Bid, Spend a Buck, Strawberry Road, Street Sense, Tiago

Dams: Ajina, Artful, Bed o' Roses, Black Caviar, Bold 'n Determined, Candy Eclair, Cicada, Dance Smartly, Dark Mirage, Eight Belles, Forward Gal, Glorious Song, Go for Wand, Gold Beauty, Havre de Grace, Heavenly Cause, Lakeville Miss, Late Bloomer, Life's Magic, Makybe Diva, Parlo, Paseana, Ruffian, Ta Wee, Tiffany Lass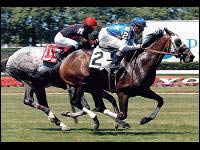 Imagine breeding, owning, caring for, training and racing your own stable of virtual thoroughbreds while interacting in a vibrant social community with thousands of online horse game players from all over the world. This exciting game puts you in complete control of your virtual stable and gives you a first-hand insight of what top thoroughbred owners and trainers do to prepare their horses for upcoming horse racing events.
After breeding and analyzing your horse, your caring and training routine will get him ready for his racing debut. Identify and enter the correct races for your horse, assign his training routine, give your jockey racing instructions, then sit back and watch 3D horse racing at its finest. You will be on the edge of your seat cheering for your virtual thoroughbred as he turns for home and strives with an all-out effort to reach the finish line first. No other horse game can provide this level of realism.
This exciting free game allows racing fans, whether novice or seasoned, to enjoy the most realistic, heart-pounding, exciting gaming experience.
Players compete for top honors and awards in our free online horse game. Will your horses have what it takes to earn top racing honors with you as breeder, owner, and trainer?
Click the Play Now button to start building your stable of champions.




| | | | | |
| --- | --- | --- | --- | --- |
| | | | Smokin' Joe Talamo (Top Jockey and TV Celebrity) - "Being 20, I know all about games. Not only do you guys make the best horse racing games, I think ,simply put, you make the best games! Anyone who plays will become addicted to any one of your games." | |





| | | | | |
| --- | --- | --- | --- | --- |
| | | | Jacob - "Just started getting into horse racing and stumbled across your website. I play skill games and strategy games all the time. Yours are a blast! | |





| | | | | |
| --- | --- | --- | --- | --- |
| | | | Tony - "Love your virtual simulations of upcoming stake races. I've been using your program now for about a year. You've helped me find real hidden betting value in some big races." | |





| | | | | |
| --- | --- | --- | --- | --- |
| | | | Kimberly - "I'm not even a big horse racing fan, but I love horses and I love games and yours are a lot of fun." | |





| | | | | |
| --- | --- | --- | --- | --- |
| | | | Chantal Sutherland (Top jockey and professional model) - "Offering multiple games to reach such a broad audience is a great way to create awareness about horse racing. Obviously, my favorite is the jockey game. It's very realistic." | |