07/01/16 - New Special Races & Shed Program
Sometime between the middle to end of July we will be starting the new Shed Program. Here is how it will work. The HRG horses from the past (such as Secretariat, Barabaro, etc) will be narrowed to 50 sires and 50 dams. Whenever we add a new HRG horse one will be removed and the added one will take its place so there will never be more than 50. The public horses on the list will be limited to 15 sires and 15 dams (for a total of 65 sires and 65 dams to choose from at any one time). Getting the list down to 15 public sires and 15 dams will be a 3 month process. On Aug 1st the bottom 1/3 of current public sires and dams based on total breedings in the last month to verified stables will be removed from the list and 5 new public sires and 5 new public dams will be added to the list. On Sept 1st the next 1/2 of the remianing current public sires and dams will be removed from the list and 5 more new sires and dams will be added. On Oct 1st the remaining current public sires and dams will be removed from the list and 5 more new sires and dams will be added to the list. At this point the list will be down to 15 public sires and dams. On Nov 1st the 5 sires and dams that were added on Aug 1st will be removed and 5 new ones will be added. So, each selected public sire and dam will remain on the list for 3 months of breeding before being removed. The owner of each sire and dam bred to by a verified player will receive 3,000 game points if the owner of the sire or dam is VIP.

All of the sires and dams that previously qualified for the shed program will be the first to be added. They will be selected randomly each month until they have all been added and had a chance to be bred. Once all of the previous qualifiers have been run through then all other horses will become eligible. VIP players will be given the option to nominate up to 3 retired horses to the shed. A player can select any combination of male and/or female for their 3. All nominated horses will then be ranked by game points won while racing and divided by male and female. The top male or female horse will have 20 balls thrown in a hat, 2nd will have 18 balls, 3rd 16, 4th 14, 5th 12, 6th 10, 7th 8, 8th 6, 9th 4, 10th 2, and 11th+ 1. A ball will then be drawn out of the hat for each spot in the breeding shed. The ability to nominate retired horses will likely be out in a few weeks. A horse will need to have earned a minimum of 500,000 game points to be eligible to be nominated.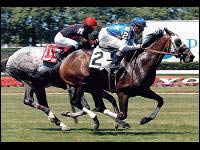 Imagine breeding, owning, caring for, training and racing your own stable of virtual thoroughbreds while interacting in a vibrant social community with thousands of online horse game players from all over the world. This exciting game puts you in complete control of your virtual stable and gives you a first-hand insight of what top thoroughbred owners and trainers do to prepare their horses for upcoming horse racing events.
After breeding and analyzing your horse, your caring and training routine will get him ready for his racing debut. Identify and enter the correct races for your horse, assign his training routine, give your jockey racing instructions, then sit back and watch 3D horse racing at its finest. You will be on the edge of your seat cheering for your virtual thoroughbred as he turns for home and strives with an all-out effort to reach the finish line first. No other horse game can provide this level of realism.
This exciting free game allows racing fans, whether novice or seasoned, to enjoy the most realistic, heart-pounding, exciting gaming experience.
Players compete for top honors and awards in our free online horse game. Will your horses have what it takes to earn top racing honors with you as breeder, owner, and trainer?
Click the Play Now button to start building your stable of champions.